LE DOMAINE JULIEN CRUCHANDEAU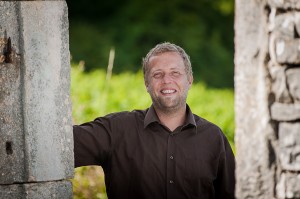 The estate, established in 2003 by Julien Cruchandeau, currently comprises 9 wine appellations. From the Côte de Nuits region: Nuits Saint Georges "Aux Saints Jacques", Hautes Côtes de Nuits red and white; from the Côte de Beaune region: Puligny Montrachet Premier Cru "Hameau de Blagny", Savigny les Beaune "Les Petits Picotins", Ladoix "Les Ranches"; from the Côte Chalonnaise region: Bouzeron "Vieilles Vignes", but also Crémant de Bourgogne Blanc, Crémant de Bourgogne Rosé.
THE VIGNERON: JULIEN CRUCHANDEAU
Born in Chenôve in 1978, Julien Cruchandeau spent his youth in Burgundy, but is not from a local winemaking family.
For a long time, he wanted to be a cook, working with substances, aromas, and flavour combinations. In 1997, he graduated from high school in Dijon with a specialisation in hospitality, and worked one job after another in France and England. One of these jobs was as a waiter in a high-end brasserie in London, where he discovered cuisines and wines from around the world.
In 2000 he returned to Burgundy and decided to take a two-year course in oenology and viticulture in Beaune (CFPPA), while gaining work experience at the Domaine Seguin de Gevrey-Chambertin. In 2001, he was offered a position as estate manager and master blender at the Domaine France Lechenault in Bouzeron, the main village in the Côte Châlonnaise. From winegrowing to winemaking and marketing, he oversaw the entire process for four vintages of Bouzeron (white) and Côte Chalonnaise (white and red).
In 2002, at the age of 24, his name was mentioned in the Guide Hachette, then in 2005 he was awarded gold at the Concours des vins la Côte Chalonnaise, which won him great respect from fellow professionals in the industry.
In 2003, he established his own estate: Domaine Cruchandeau. He bought his first vines in Bouzeron, along with his first winemaking equipment (wine press, vats, pumps, etc.). In 2007, wanting to expand, he bought a house in Chaux, in the Hautes Côtes de Nuits wine region, with large cellars and an extensive vat room. Finally, in 2009-2010, he attracted the interest of a number of investors and established an agricultural land group (GFA), "Aux Saints Jacques", thus extending his estate from Nuits St Georges to Savigny les Beaune.

APPROACH: TOWARDS SUSTAINABLE VITICULTURE

The vines are grown in a manner that is respectful of the land and terroirs, with treatments applied using the philosophy of Lutte Raisonnée (literally "reasoned struggle", meaning chemicals are only used when absolutely necessary), and moderate yields, to obtain healthy, quality grapes.
Harvesting is done by hand. The wines are vinified and matured in oak barrels and vats. They are made as naturally as possible, following traditional methods while applying a few modern winemaking techniques, including temperature control.
Maturation is undergone for 8 to 18 months, depending on the vintage, in vats or barrels with some lees ageing for whites.

ANOTHER PASSION: ELECTRONIC MUSIC
Not only is Julien Cruchandeau an artist of winemaking, he is also an electronic music artist. Having learned to play the drums and the piano at a young age, he embarked on an incredible adventure with the group Shrink Orchestra. Between 2004 and 2010 he performed in around 200 concerts one after the other, both within the region and elsewhere (Paris, Bordeaux, Rennes, Strasbourg, Lyon, Czech Republic, Switzerland, etc., Les Eurockéennes de Belfort in 2006), and created a record label, Guls Records. He chose to abandon this musical career in 2010 to devote himself entirely to viticulture.